This year's squash (starts in August) were selected with the following criteria in mind…
Flavour: our crop reflects the breadth of flavours true heirloom squash can offer.
Maturity: their ability to grow to maturity in our climate. Our horizontal resistance is getting better…
---
The Costata Romanesco is the meatiest zucchini available today. You can fry it without it falling appart. It is also great for pickling (yes, pickled zucchini!). A must try… This will change your mind about zucchini. Available 1st Aug. Out of stock.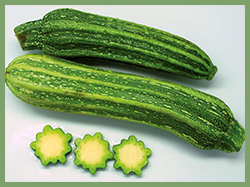 ---
Without a doubt, the Golden Pippin is the most flavourful Acorn available on the market today. Its flesh is delicate and sweet. Simply roasted with a pinch of salt and pepper, it will complement any great meal. Available Oct 1st.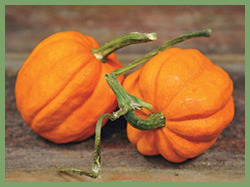 ---
"Like a sweet potato but with greater flavour". Absolutely great roasted and mashed as in potatoes. The Thelma Sanders keeps well (the longest of the pepos) and gets better as it ages. Available Oct 1st.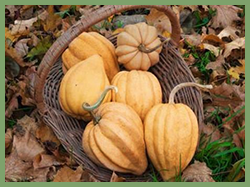 ---
You can eat everything, including its delicate skin. Raw, the Honeyboat tastes like sweet corn. Great as fries or filled with meat & cheese and roasted. You will find a great pasta sauce recipe here. One way to highlight the taste difference between Heirloom and hybrid Delicata is to purchase both and compare. From then on, you'll know! Available Oct 1st.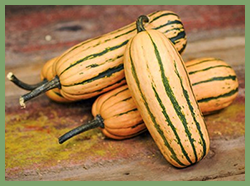 ---
Introduced at the end of the 18th century, the Winter Luxury quickly established its reputation as best squash for pie! A reputation it keeps to this day. Its pureed flesh is smooth as silk, very sweet and non-fibrous. So in demand, we offer the purée in Frozen containers almost all year. To this day, we have not been able to keep it in stock year-round, even though we produce more each year. Available Oct 1st.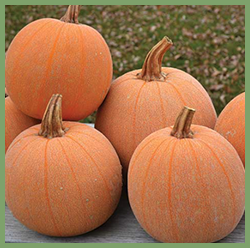 ---
The following Maximas and Moschata were harvested in early October and have benefited from extended drying in the fields and curing in our warehouse. They are ready to eat but will get better with time. (See chart)
---
Known as Hokkaido in Japan, the Red Kuri finds itself in numerous japanese dishes: excellent raw in salad, in desserts (brioche, cake, bread, muffins & pie), in risotto, in a stew and grilled…. The flesh is firm and savoury. One of the most versatile. Available Nov 1st.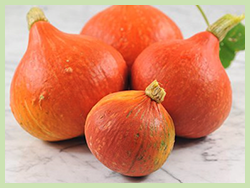 ---
Grown in Central America for a thousand years! The Guatamalan Blue's flesh is thick, firm and sweeter then most banana squashes. It will keep in your fridge for a couple weeks as you cut off slices to fry or roast. Available Nov 1st.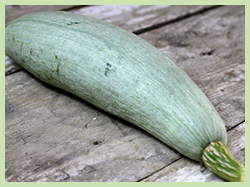 ---
The Blue Kuri is a close cousin to the venerable Sweet Meat. Its seed cavity is quite small, leaving room for lots of flesh for its size. Quite sweet and nutty, you must try it in soups or stew… Available Nov 1st.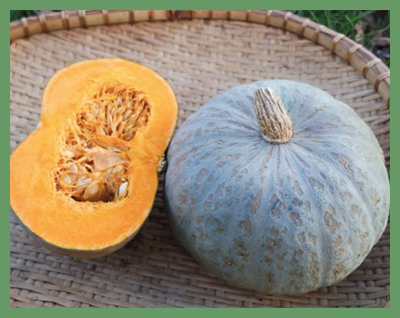 ---
Available in the U.S. only since 1987. However, its delicate flavour warrants its place in our selection. Fabulous roasted and in soups. Available Nov 1st.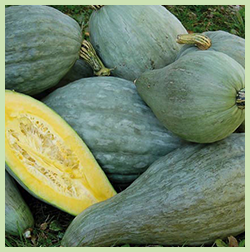 ---
Unique tasting flesh . Quite rare. The Sweet Fall is excellent grilled and in soups. New since last year for us. Available Nov 1st.
---
Exceptionally velvety and smooth flesh. The Musque de Provence can be eaten raw like a cantaloupe! Fabulous roasted as well as in risottos, sauces, soups and pies. Its quite versatile. Again one of the last to be harvested. Available Nov 1st.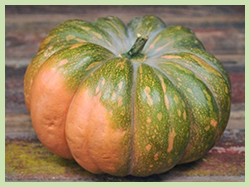 ---
Our aged Winter Squash…
The following Squash are stored in a controlled temperature & humidity warehouse for curing. We release them at the start of their ripeness window. All can keep well for many weeks more. You can reserve some here. Note: Tasting properly cured Squash was the spark that led us to research the world of heirloom seeds.
---
Due to its rich and complex flavour, the Sweet Meat is one of the most sough-after winter squashes available. Its seed cavity being very small, the quantity of flesh you get is impressive for its size. Like the Constata Romanesco, it is fabulous dehydrated! Once dried, you can eat as is, to give a little zing to a soup or pulverized into a powder to act as a flavour enhancer for many dishes. However, its claim to fame resides in hearty dishes. Also, it keeps very well. Available Dec 1st.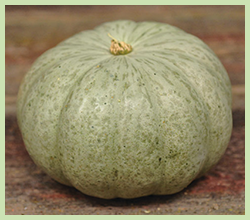 ---
Born out of a Blue Hubbard and Sweet Meat marriage, it excels in a cornucopia of recipes. Very hard to get! (and identify). Quite tricky to grow, hence why it is so hard to find. The connoisseur's choice. Available Dec 1st.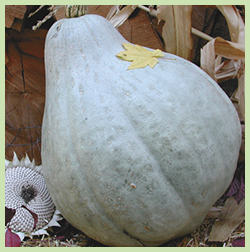 ---
French Heirloom, the Galeux d'Eysines sought after for its velvet-like texture. Ideal for sauces, soups and pies. Also keeps well. Available Dec 1st.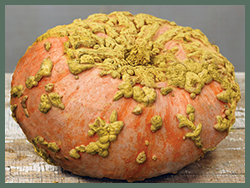 ---
Perfect in soups, roasted in its shell, and for dessert, in pies and cake. The Long Island Cheese is also, often used as mash in the making of craft beer. One of the first squashes ever grown in the U.S. Being a Moschata, it needs a very long growing season, usually one of the last to be harvested. Available Dec 1st.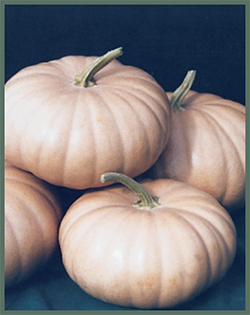 ---