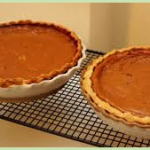 Print Recipe
Winter Luxury Pie
The perfect pumpkin (squash) pie. Rich, simple, delicious, that's how I would characterize the nearly two-hundred year old recipe of Lydia Maria Child. 
Ingredients
1

medium "winter luxury" squash

about 3 lbs

4

cups

milk

3/4

cup

dark brown sugar

more to taste

2

tsp

salt

2

tbsp

ground cinnamon

more to taste

1

tbsp

ground ginger

more to taste

Grated zest of 1 lemon

optional

3

eggs

whisked to mix

Two 10-inch pie shells
Instructions
To cook squash: slice skin from top and bottom of the squash. In a curving motion, cut remaining skin in segments from the sides, working from top to bottom. Cut flesh in half, scoop out and discard seeds and cut the flesh in chunks; they should weigh about 2 pounds.

Put squash in a saucepan with water to cover base of the pan. Add the lid and cook over medium heat, stirring often, so pumpkin steams until it can be crushed easily with a fork, 30-45 minutes. Crush it with a potato masher or purée in a food processor until smooth.

Chill the pie shells. Heat oven to 400˚F/200˚C and put a baking sheet low down on a shelf to heat. For filling, heat milk in a large saucepan. Stir in pumpkin purée and cook over medium heat, stirring constantly, so the mixture thickens slightly, about 20 minutes.

Let cool to tepid, then stir in sugar, salt, cinnamon, ginger, and lemon if using. Taste and adjust sweetness and spice. Lastly stir in eggs.

Transfer filling to pie shells. Set pies on the heated baking sheet and bake in the oven 15 minutes. Lower heat to 350˚F/180˚C and continue baking until pies are firm but slightly wobbly in the center, 40 to 50 minutes more.

Serve at room temperature. Makes two 10-inch pies.